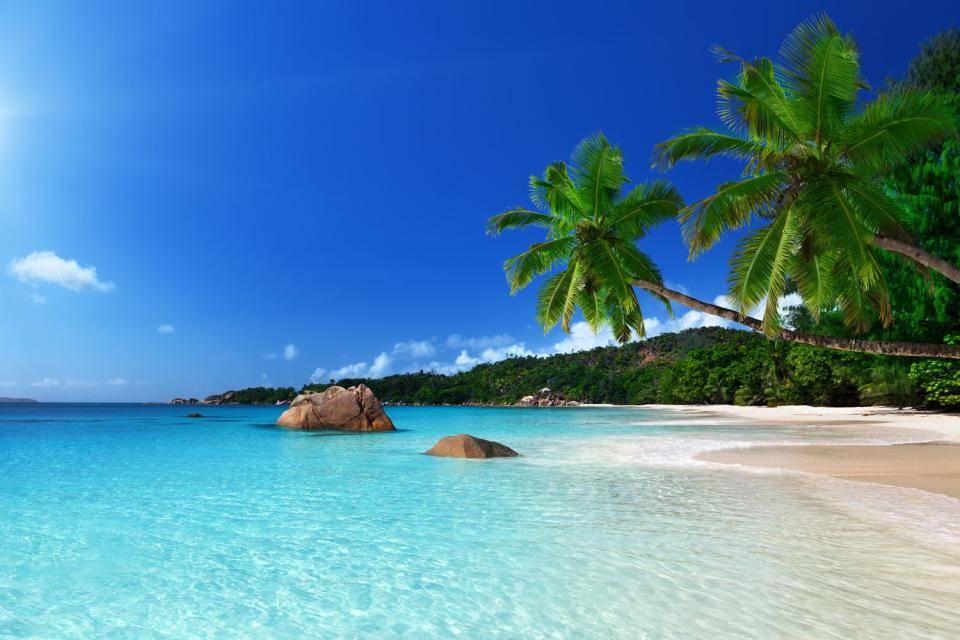 Here is a selection of the most beautiful anchorages in Praslin.
12 km long and 5 km wide, Praslin is the second largest island in the Seychelles. A walk in the Vallée de Mai is truly enchanting.
The indented shoreline of Praslin offers many safe and comfortable anchorages.
BAIE SAINTE ANNE
This vast bay is the main anchorage of the island. Ideal for filling up with water and refueling at the Indian's located 5 minutes walk from the pontoons to your right. You can go back to sea and discover the superb beaches of Praslin. The anchorage is done on the buoys at the entrance of the small port.
ANSE VOLBERT
(Bat anchorage)
This cove is bordered by a magnificent 2.8 km long fine sandy beach, but the very gentle slope means that you have to anchor at a distance. Ideal for relaxation and idleness. A road is located just behind the beach and gives access to several shops and restaurants. LES LAURIERS, a restaurant not to be missed.
SAINT-PIERRE ISLAND
An idyllic diving spot. This small islet offers a giant aquarium where mask and snorkel diving is ideal. These sea beds are full of multicolored fish in crystal clear water.
ANSE GEORGETTE
Anse Georgette is an idyllic bay with its sumptuous white sand beach, its turquoise water and its rich seabed. A small corner of paradise still very wild.
The anchorage is 4 or 5 meters from the beach.
ONLY BY SOUTH-EAST WIND AND ONLY DURING THE DAY